---

DECEMBER 7 1941-1998

---
On December 7th 1941, without warning, Japanese planes attacked U.S. ships moored at Pearl Harbor. On December 8th 1941, the U.S.A. declared war on Japan and this started the beginning of the U.S.A.'s full involvement in World War II.
Each year a special cancel has been issued by the U.S. Post Office in memory of the Pearl Harbor attack. However, 1998 was the first year in about 50 years that no such special cancel was issued. The Pearl Harbor Post Office (located on the Naval base) was cordoned off on December 7th 1998 due to a security problem, so the covers were cancelled at the nearby Pearl City Post Office. The covers also bear the green USS Arizona Memorial cancel.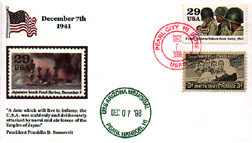 ENVELOPE: White. Size 6.5" x 3.5" (165mm x 92mm)
CACHET: U.S. flag upper left. Blow-up of Scott # 2559i "Japanese bomb Pearl Harbor, December 7" stamp on black background (center).
CACHET TEXT: "DECEMBER 7th 1941 (top). A date which will live in infamy, the U.S.A. was suddenly and deliberately attacked by naval and air forces of the Empire of Japan - President Franklin D. Roosevelt."(bottom).
STAMP: 3c Chaplains and the sinking of the ship SS Dorchester in WWII (Scott #956) plus various 29c WWII stamps (Scott # 2559 a-j, 2697 a-j, 2765 a-j, 2838 a-j)
CANCELLATION: Circular date stamp cancel "PEARL CITY, HI 96732, DEC 7 1998". Plus green circular date stamp cancel"USS ARIZONA MEMORIAL, PEARL HARBOR, HI, DEC 07 '98"
CACHET MAKER: Enelani.
NUMBER MADE: 50.
ITEM # 98DEC07
PRICE: $3.50
---