---

"SPIRIT OF HAWAI'I"
B2 AIRCRAFT NAMING CEREMONY


---
On May 27th 1996, a B2 aircraft of the U.S. Air Force was named the "Spirit of Hawai'i" at a ceremony held at Hickam Air Force Base on the island of O'ahu, Hawai'i.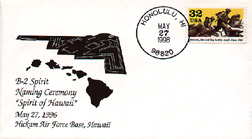 ENVELOPE: White. Size 6.5" x 3.5" (165mm x 92mm)
CACHET: Silhouette of Hawaiian Islands and B2 aircraft in black.
CACHET TEXT: "B-2 Spirit Naming Ceremony "Spirit of Hawaii" May 27, 1996 Hickam Air Force Base, Hawaii"
STAMP: various 32c World War II stamps (Scott # 2981 a-j).
CANCELLATION: Circular date stamp cancel "HONOLULU HI 96820 - MAY 27 1996."
CACHET MAKER: Unknown
NUMBER MADE: Unknown
ITEM # 96MAY27
PRICE: SORRY, SOLD OUT.
---
Place an order for covers & postcards
return to introduction