---

HOSPICE HAWAI'I - 20TH ANNIVERSARY

---
On February 9 1999, the U.S. Post Office issued a special cancel to celebrate the 20th anniversary of Hospice Hawai'i in conjunction with the first day of issue of the 33c Hospice Care stamp. Hospice Hawai'i created a special cacheted envelope.
Hospice Hawai'i was founded in 1979 and is a Medicare/Medicaid certified hospice that provides services to patients at their place of residence, whether the patient is at home, in a hospital, nursing home, or other residential setting.
The mission of Hospice Hawai'i is to provide a special kind of caring for terminally ill people and their families, to ensure their quality of life, to help them prepare for death, and to educate the community about the hospice philosophy.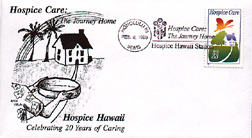 ENVELOPE: White. Size 6.5" x 3.5" (165mm x 92mm)
CACHET: Black and White drawing. Rainbow over house and 2 palm trees. Person holding out a bowl on a path leading to the house.
CACHET TEXT: "Hospice Care: The journey home. Hospice Hawaii. Celebrating 20 years of caring."
STAMP: 33c Hospice Care stamp (Scott # new)
CANCELLATION: Special USPS circular date stamp cancel "HONOLULU HI 96813, FEB. 9, 1999 " alongside the Hospice Hawaii logo plus "Hospice Care: The journey home. Hospice Hawaii Station"
CACHET MAKER: , Honolulu.
NUMBER MADE: Enelani - 50. Total by Hospice Hawaii - unknown.
ITEM # 99FEB09
PRICE: SORRY, SOLD OUT.
---
Place an order for covers & postcards
return to introduction