---

HULA'S BAR & LEI STAND, WAIKIKI CLOSES


---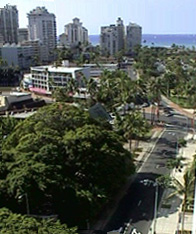 Former Hula's Banyan Tree
looking down Kalaimoku Street towards the Pacific Ocean

For 24 years, Hula's Bar and Lei Stand, a very popular drinking place, had remained open serving the Gay and Lesbian community of Hawai'i and visitors from all corners of the globe. It was world famous because of its ambience. This was mainly due to the friendly owner and staff and the location under a big spreading Banyan tree (see photo above) in the heart of Waikiki. Dancing and socializing outdoors is the true spirit of Hawai'i. 25 years ago, the bar was the site of a taxicab stand. The taxis would park under the shade of the Banyan tree waiting for sailors and their girlfriends to come out of the Kuhio Theater (now demolished) across the street. They would then drive them to their hotels or back to base.

Hula's started out as a modest bar, but was very successful over the years. The lot that Hula's stood on was sold to developers in 1998 who plan to build yet another Shopping Center for Waikiki which opens in 2001. The last night at Hula's consisted of dancing and socializing outdoors as usual, plus a slide show of previous events and also celebrities and ordinary folk who had visited the bar over the years. Just before the doors were shut at 2am on Monday July 20th 1998, everyone held hands to form a circle around the Banyan tree to say goodbye to the tree everyone loved. Sadly, the developers plan to tear down the beautiful tree sometime in 1999 despite many objections from Waikiki residents and former bar patrons.

A cacheted cover and 2 different cacheted postcards were issued in memory of the closure of Hula's Bar & Lei Stand.

UPDATE: Saturday March 20 1999 6pm. Very strong winds uprooted the old Hula's Banyan tree. It fell in the direction of the the old Canlis restaurant site and partly blocked Kalaimoku Street and the sidewalk. City street crews were removing the branches around 7pm Saturday. It is a sad ending to a great era. It's great that the tree died of natural causes (high winds) though rather than at the hands of the developers. For over 50 years the beautiful Banyan tree graced the heart of Waikiki and brought shade and enjoyment to the many thousands of people who passed under its branches.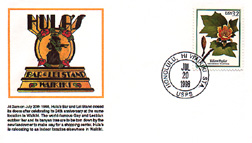 ENVELOPE: White. Size 6.5" x 3.5" (165mm x 92mm)
CACHET: Hula's Bar and Lei Stand logo (Hula girl) in a yellow box with text underneath.
CACHET TEXT: "At 2am on July 20th 1998, Hula's Bar and Lei Stand closed its doors after celebrating its 24th anniversary at the same location in Waikiki. The world-famous Gay and Lesbian outdoor bar and its banyan tree are to be torn down by the new landowner to make way for a shopping center. Hula's is relocating to an indoor location elsewhere in Waikiki."
STAMP: various 32c Flowering tree stamps (Scott # ).
CANCELLATION: Circular date stamp cancel "HONOLULU HI WAIKIKI STA - JUL 20 1998."
CACHET MAKER: Enelani
NUMBER MADE: 50
ITEM # 98JUL20-E
PRICE: $3.00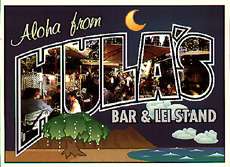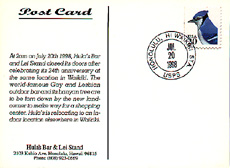 POSTCARD: Size 5.5" x 4" (140mm x 100mm)
CACHET: None, just text on message side.
TEXT: "At 2am on July 20th 1998, Hula's Bar and Lei Stand closed its doors after celebrating its 24th anniversary at the same location in Waikiki. The world-famous Gay and Lesbian outdoor bar and its banyan tree are to be torn down by the new landowner to make way for a shopping center. Hula's is relocating to an indoor location elsewhere in Waikiki."
STAMP: 20c Bluejay stamp (Scott # 3048).
CANCELLATION: Circular date stamp cancel "HONOLULU HI WAIKIKI STA - JUL 20 1998."
CACHET MAKER: Enelani
NUMBER MADE: 40
ITEM # 98JUL20-PC1
PRICE: $3.00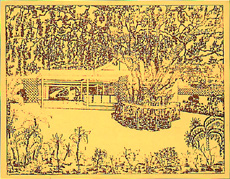 Hula's interior from an original drawing by Michael Beebe

POSTCARD: Yellow card stock. Size 5.5" x 4.25" (140mm x 108mm)
CACHET: None, just text on message side. (Back is similar to previous postcard)
TEXT: "At 2am on July 20th 1998, Hula's Bar and Lei Stand closed its doors after celebrating its 24th anniversary at the same location in Waikiki. The world-famous Gay and Lesbian outdoor bar and its banyan tree are to be torn down by the new landowner to make way for a shopping center. Hula's is relocating to an indoor location elsewhere in Waikiki."
STAMP: 20c Bluejay stamp (Scott # 3048).
CANCELLATION: Circular date stamp cancel "HONOLULU HI WAIKIKI STA - JUL 20 1998."
CACHET MAKER: Enelani
NUMBER MADE: 40
ITEM # 98JUL20-PC2
PRICE: $3.00
---
Place an order for covers & postcards
return to introduction