---

HULA'S BAR & LEI STAND, WAIKIKI RE-OPENS


---
On Monday July 20th 1998, Hula's Bar and Lei Stand at the the corner of Kalaimoku Street amd Kuhio Avenue closed its doors. However, the owner had bought a second floor space in the Waikiki Grand Hotel on Kapahulu Avenue which had previously been a restaurant. There were many hurdles to jump over before opening - plans, hearings, permits etc. But finally the new Hula's opened its doors on November 20th 1998. Although indoors, the new bar does have a spectacular view of Kapiolani Park, Diamond Head and the Pacific Ocean. During the day the windows are removed so that the Trade winds can circulate around the bar. There is a Banyan tree, but it's across the street in the park.
Just a postcard was issued to celebrate the re-opening of Hula's.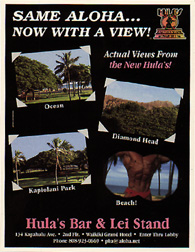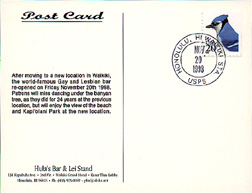 POSTCARD: Continental Size 6" x 4" (152mm x 100mm)
CACHET: None, just text on the message side.
TEXT: "After moving to a new location in Waikiki, the world-famous Gay and Lesbian bar re-opened on Friday November 20th 1998. Patrons will miss dancing under the banyan tree, as they did for 24 years at the previous location, but will enjoy the view of the beach and Kapi'olani Park at the new location."
STAMP: 20c Bluejay stamp (Scott # 3048).
CANCELLATION: Circular date stamp cancel "HONOLULU HI WAIKIKI STA - NOV 20 1998."
CACHET MAKER: Enelani
NUMBER MADE: 50
ITEM # 98NOV20
PRICE: $3.00
---
Place an order for covers & postcards
return to introduction