---

'IOLANI PALACE


---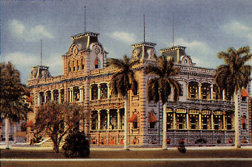 'Iolani Palace (from a postcard)

The first 'Iolani Palace was built during King Kamehameha III's reign. It was a small one-storey building made of coral. He named it 'Iolani, which means "Bird of Heaven" in Hawaiian. In 1874 it was torn down and plans were made for a second 'Iolani Palace. The cornerstone of the second 'Iolani Palace was laid on December 31 1879 in King Kalakaua's reign and construction of the palace was completed in 1882. At the time, the Advertiser newspaper said the palace "will be in all respects by far the finest and most imposing building on the islands, an honor and an ornament to our capital city and a fitting abode for royalty."

On October 1st 1979, the U.S. Post Office issued a 10c postal card depicting 'Iolani Palace.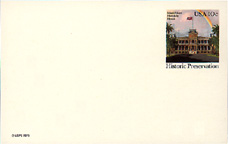 POSTAL CARD: White. Size 5.5" x 3.5" (140mm x 88mm)
CACHET: None
CACHET TEXT: None
STAMP ON POSTAL CARD: 10c Iolani Palace, Honolulu, Hawaii- Historic Preservation (Scott # UX81).
CANCELLATION: None
ITEM # UX81
PRICE: $0.50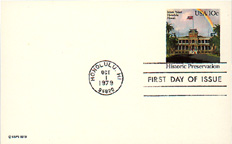 POSTAL CARD: White. Size 5.5" x 3.5" (140mm x 88mm)
CACHET: None
CACHET TEXT: None
STAMP ON POSTAL CARD: 10c Iolani Palace, Honolulu, Hawaii - Historic Preservation (Scott # UX81).
CANCELLATION: Circular date stamp cancel "HONOLULU HI 96820 - OCT 1 1979." Plus "FIRST DAY OF ISSUE" between 4 killer bars.
NUMBER OF FDC's MADE: 242,804
ITEM # 79OCT01
PRICE: $1.00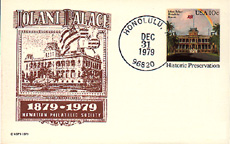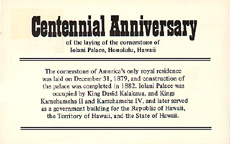 POSTAL CARD: White. Size 5.5" x 3.5" (140mm x 88mm)
CACHET: Iolani Palace and text in brown
CACHET TEXT: "IOLANI PALACE, 1879-1979, Hawaiian Philatelic Society.
TEXT ON BACK: Centennial Anniversary of the laying of the cornerstone of Iolani Palace, Honolulu, Hawaii. The cornerstone of America's only royal residence was laid on December 31 1879 and construction of the palace was completed in 1882. Iolani Palace was occupied by King David Kalakaua, and the Kings Kamehameha II and Kamehameha IV, and later served as a government building for the Republic of Hawaii, the Territory of Hawaii, and the State of Hawaii."
STAMP ON POSTAL CARD: 10c Iolani Palace, Honolulu, Hawaii - Historic Preservation (Scott # UX81).
CANCELLATION: Circular date stamp cancel "HONOLULU HI 96820 - DEC 31 1979."
CACHET MAKER: Hawaiian Philatelic Society.
NUMBER MADE: Unknown
ITEM # 79DEC31
PRICE: $2.50
---
Place an order for covers & postcards
return to introduction