---
KING KALAKAUA
125TH ANNIVERSARY OF BECOMING KING
---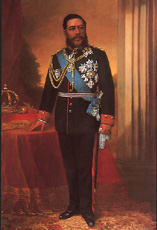 KING KALAKAUA
(Postcard, from a painting by William Cogswell which hangs in the Blue Room of 'Iolani Palace)

After King Lunalilo of Hawai'i died on February 3rd 1874, the King's cabinet met on February 12th 1874 to choose a monarch. It was between David Kalakaua and Queen Emma. Both sides had very ardent supporters. Queen Emma was known to be pro-British. Kalakaua won the vote, but Queen Emma's supporters were very upset and a riot ensued. The Honolulu Police were unable to control the riot, so U.S. and British troops (from three warships in Honolulu harbor at the time) were called in to quell the disturbance.

On February 12th 1999, a special cacheted cover and postcard were created to celebrate the 125th Anniversary of Kalakaua becoming King of Hawai'i.

Note: The correct name for this Hawaiian monarch is "King Kalakaua". He dropped his first name David when he became King. He is often found incorrectly named as "King David Kalakaua" - for example in the Scott stamp catalog - and even on a statue of him here in Hawai'i. Calling him "King David Kalakaua" is like calling the Queen of England "Queen Elizabeth Windsor" when it should be just "Queen Elizabeth" or more correctly "Queen Elizabeth II".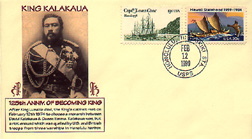 ENVELOPE: Ivory-colored. Size 6.5" x 3.5" (165mm x 92mm).
CACHET: Sepia photo of King Kalakaua with text underneath.
CACHET TEXT: (above photo) "KING KALAKAUA. (below photo) 125th ANNIV. OF BECOMING KING. After King Lunalilo died, the King's cabinet met on February 12th 1874 to choose a monarch between David Kalakaua & Queen Emma. Kalakaua won, but a riot ensued which was quelled by U.S. and British troops from three warships in Honolulu harbor."
STAMP: 13c Captain Cook stamp (Scott # 1733) & 20c Hawaii Statehood stamp (Scott # 2080).
CANCELLATION: Circular date stamp cancel "HONOLULU HI WAIKIKI STA - FEB 12 1999."
CACHET MAKER: Enelani.
NUMBER MADE: 75.
ITEM # 99FEB12-E
PRICE: $3.50
| | |
| --- | --- |
| 17 postcards are stamped like this. | 33 postcards are stamped like this. |

(The front of this postcard is shown at the top of this page.)

POSTCARD: Continental Size 6" x 4" (152mm x 100mm)
CACHET: None, text only on message side.
CACHET TEXT: "KING KALAKAUA. 125th ANNIV. OF BECOMING KING. After King Lunalilo died, the King's cabinet met on February 12th 1874 to choose a monarch between David Kalakaua & Queen Emma. Kalakaua won, but a riot ensued which was quelled by U.S. and British troops from three warships in Honolulu harbor."
STAMP: 20c Hawaii Statehood stamp (Scott # 2080) (33 like this).
OR 3c King Kamehameha I Statue stamp (Scott # 799) + 7c Hawaii Statehood stamp (Scott # C55) + 11c Hawaii State Park stamp (Scott # C84) (17 like this).
CANCELLATION: Circular date stamp cancel "HONOLULU HI WAIKIKI STA - FEB 12 1999."
CACHET MAKER: Enelani.
NUMBER MADE: 50.
ITEM # 99FEB12-PC
PRICE: $3.50
---
Place an order for covers & postcards
return to introduction