---

125TH ANNIVERSARY OF THE
DEATH OF KING KAMEHAMEHA V

---
On December 11th 1872, King Kamehameha V of the Kingdom of Hawai'i died. King Kamehameha V had no children and did not name an heir, so he was the last in line of the Kamehameha dynasty. He was followed by King Lunalilo. In Memory of the 125th Anniversary of his death, a cacheted envelope was made on December 11 1997.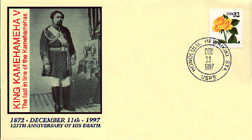 ENVELOPE: Cream colored. Size 6.5" x 3.5" (165mm x 92mm)
CACHET: Black and White picture of Kamehameha V (from a photo).
CACHET TEXT: "KING KAMEHAMEHA V, The last in line of the Kamehamehas (in red vertical) 1872 - December 11th - 1997, 125th Anniversary of his death (in blue horizontal)"
STAMP: 32c Yellow Rose (Scott # 3049)
CANCELLATION: Circular date stamp cancel "HONOLULU HI WAKIKI STA - DEC 11 1998."
CACHET MAKER: Enelani.
NUMBER MADE: 50.
ITEM # 97DEC11
PRICE: $3.50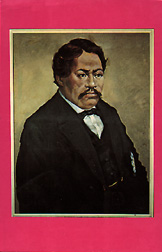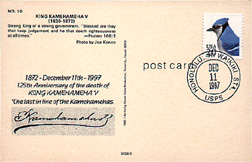 POSTCARD: Size 5.5" x 3.5" (140mm x 90mm)
CACHET: None, just text on the message side
CACHET TEXT: "1872 - December 11th - 1997, 125th Anniversary of the death of KING KAMEHAMEHA V. The last in line of the Kamehamehas" plus his signature.
STAMP: 20c Bluejay stamp (Scott # 3048).
CANCELLATION: Circular date stamp cancel "HONOLULU HI WAIKIKI STA - DEC 11 1997."
CACHET MAKER: Enelani.
NUMBER MADE: 50.
ITEM # 97DEC11-PC
PRICE: $3.50
---
Place an order for covers & postcards
return to introduction