---

25TH ANNIVERSARY OF CHARLES LINDBERGH'S DEATH ON MAUI

---
Charles Lindbergh was born in Michigan, but spent most of his childhood in Little Falls, Minnesota. He went on to become the first aviator to fly solo non-stop across the Atlantic Ocean from New York to Paris, France in his plane the "Spirit of St. Louis". This flight brought him instant fame and fortune. But after the kidnapping of his baby, he sought a retreat from the world. He found this on Maui where he bought a house just south of Hana on East Maui in the Hawaiian Islands. Although he did not live permanently on Maui, Lindbergh and his family visited often and felt at peace there.
After being diagnosed with terminal cancer in 1974, he flew with his family from New York to Maui and he died at his home there a few days later on August 26th 1974. He is buried in the churchyard at Palapala Ho'omau Congregational Church, Kipahulu on the Old Hana Highway, just a few miles south of Hana. The inscription on his tombstone reads "...If I take the wings of the morning and dwell in the uttermost parts of the sea."
On August 26th 1999, a special cacheted cover was created in memory of Charles Lindbergh and the 25th Anniversary of his death. Also a postcard (see below for details).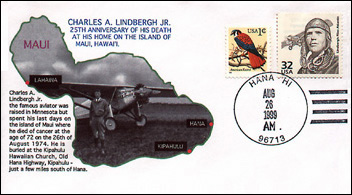 ENVELOPE:White colored. Size 6.5" x 3.5" (165mm x 92mm)
CACHET: Black and White photo of Charles Lindbergh and his plane the "Spirit of St. Louis" inside an outline of a map of Maui.
CACHET TEXT: "CHARLES A. LINDBERGH JR. 25TH ANNIVERSARY OF HIS DEATH AT HIS HOME ON THE ISLAND OF MAUI" above the photo and map of Maui. "Charles A. Lindbergh Jr. the famous aviator was raised in Minnesota but spent his last days on the island of Maui where he died of cancer at the age of 72 on the 26th of August 1974. He is buried at the Kipahulu Hawaiian Church, Old Hana Highway, Kipahulu - just a few miles south of Hana" to the left of the photo and map. The outline map of Maui shows the location of 3 Maui towns - Lahaina on West Maui; Hana and Kipahulu on East Maui.
STAMPS: 1999 32c Lindbergh stamp from the 1920's Celebrate the Century series (Scott # 3184m), plus a 1c American kestrel stamp (Scott # 2477).
CANCELLATION: Black circular date stamp cancel "HANA HI 96713 - AUG 26 1999 AM." with 4 killer bars. NOTE: Kipahulu is a very small rural village and does not have a Post Office, the nearest being in Hana - just a few miles north.
CACHET MAKER: Enelani.
NUMBER MADE: 100
ITEM # 99AUG26-E
PRICE: $4.50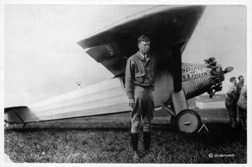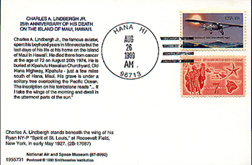 POSTCARD: Black and White photo of Charles Lindbergh and his plane the "Spirit of St. Louis" published by the Smithsonian Institute's National Air and Space Museum, Washington DC. Size 5.5" x 3.5" (140mm x 90mm)
POSTCARD TEXT: Charles A. Lindbergh stands beneath the wing of his Ryan NY-P "Spirit of St. Louis" at Roosevelt Field, New York, in early May 1927.
CACHET: None, just text only.
CACHET TEXT: "Charles A. Lindbergh Jr. the famous aviator spent his boyhood years in Minnesota but the last days of his life on the island of Maui in Hawai'i. He died there from cancer at the age of 72 on August 26th 1974. He is buried at Kipahulu Hawaiian Churchyard, Old Hana Highway, Kipahulu - just a few miles south of Hana, Maui. The inscription on his tombstone reads "...If I take the wings of the morning and dwell in the uttermost parts of the sun". (sun is a typo and should read sea).
STAMPS: 13c Lindbergh stamp (Scott # 1710) and 7c Hawai'i Statehood stamp. (Scott # C55)
CANCELLATION: Black circular date stamp cancel "HANA HI 96713 - AUG 26 1999 AM." with 4 killer bars. NOTE: Kipahulu is a very small rural village and does not have a Post Office, the nearest being in Hana - just a few miles north.
CACHET MAKER: Enelani.
NUMBER MADE: 50
ITEM # 99AUG26-PC
PRICE: $4.00
---
Place an order for covers & postcards
return to introduction