---

SS LURLINE
50TH ANNIVERSARY OF THE FIRST POSTWAR ARRIVAL
IN HONOLULU HARBOR, HAWAI'I

---
The SS Lurline was originally launched as a passenger ship in 1932 and saw regular service between the West Coast of the U.S.A. and Hawai'i. During World War II, it was used to ferry troops to the South Pacific front. After World War II, the ship was completely refurbished for $18 million - a very large sum in those days. Her first postwar voyage was from San Francisco, California to Los Angeles, California and then on to Hawai'i. The SS Lurline arrived in Honolulu Harbor to a tumultuous welcome on April 21st 1948. Hawaiians in dozens of canoes paddled out to meet the vessel while an estimated 100,000 others waved from the shore. The ship tied up at Pier 11 where the 709 passengers and 444 member crew were enthusiastically greeted with smiles and, of course, leis. The postwar arrival of the SS Lurline signified the rebirth of Tourism in Hawai'i after World War II.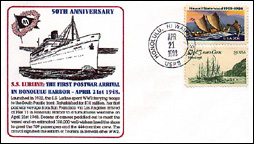 ENVELOPE: White. Size 6.5" x 3.5" (165mm x 92mm).
CACHET: A line drawing of the SS Lurline, plus a pink flower lei around the Matson Line flag (upper left)
CACHET TEXT: "50TH ANNIVERSARY, SS LURLINE THE FIRST POSTWAR ARRIVAL IN HONOLULU HARBOR - APRIL 21ST 1948. Launched in 1932, the S.S. Lurline spent WW2 ferrying troops to the South Pacific front. Refurbished for $18 million, her first postwar voyage from San Francisco via Los Angeles arrived at Pier 11 in Honolulu Harbor to a tumultuous welcome on April 21st 1948. Dozens of canoes paddled out to meet the vessel and an estimated 100,000 well-wishers lined the shore to greet the 709 passengers and the 444-member crew. The arrival signified the rebirth of Tourism in Hawai'i after WW2."
STAMP: 20c Hawaii Statehood stamp (Scott # 2080) & 13c Captain Cook stamp (Scott # 1733). Note that both stamps show Hawai'i-related ships.
CANCELLATION: Circular date stamp cancel "HONOLULU HI WAIKIKI STA - APR 21 1998."
CACHET MAKER: Enelani.
NUMBER MADE: 50.
ITEM # 98APR21
PRICE: $4.00