---

CENTENARY OF PRINCESS KA'IULANI'S DEATH

---
In 1899, Princess Ka'iulani attended her friend Eva Parker's wedding on the Big Island of Hawai'i. While riding her horse in a rainstorm there, she caught a severe cold and came down with a fever. She returned to "Ainahau" her estate in Waikiki on the island of O'ahu. But she got worse and died at 2am on March 6th 1899. She was just 23 years old. The neighborhood was awoken by the loud screeching of her beloved peacocks at about the same time. They must have sensed their mistress was no more.
Her funeral was attended by thousands of Hawaiians. They wanted to pay their respects to the last hope of the Hawaiian Monarchy. (Princess Ka'iulani was the last named successor to the Kingdom of Hawai'i, named in 1891 by her aunt Queen Lili'uokalani.) Her death was a very emotional event and the grieving went on for many days.
On March 6th 1999, a special cacheted cover was created in memory of the beloved Princess and the centenary of her untimely death.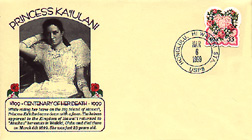 ENVELOPE: Ivory colored. Size 6.5" x 3.5" (165mm x 92mm)
CACHET: Black and White picture of Princess Ka'iulani at age 18 (from an original photo). A red rose on each side of the lower photo.
CACHET TEXT: "PRINCESS KA'IULANI" in curved letters above photo. "1899 - CENTENARY OF HER DEATH - 1999. While riding her horse on the Big Island of Hawai'i, Princess Ka'iulani came down with a fever. The heiress apparent to the Kingdom of Hawai'i returned to "Ainahau" her estate in Waikiki, O'ahu and died there on March 6th 1899. She was just 23 years old." in box below photo.
STAMP: 1999 33c love stamp showing victorian lace and roses.
CANCELLATION: Black circular date stamp cancel "HONOLULU HI WAIKIKI STA - MAR 6 1999."
CACHET MAKER: Enelani.
NUMBER MADE: 100
ITEM # 99MAR06-E
PRICE: $4.00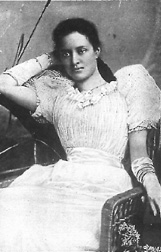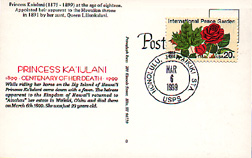 POSTCARD: Black and white photo. Size 5.5" x 3.5" (140mm x 90mm)
CACHET: None, just text only.
CACHET TEXT: "PRINCESS KA'IULANI. 1899 - CENTENARY OF HER DEATH - 1999. While riding her horse on the Big Island of Hawai'i, Princess Ka'iulani came down with a fever. The heiress apparent to the Kingdom of Hawai'i returned to "Ainahau" her estate in Waikiki, O'ahu and died there on March 6th 1899. She was just 23 years old."
STAMP: 20c International Peace Garden stamp which shows red roses. (Scott # 2014)
CANCELLATION: Black circular date stamp cancel "HONOLULU HI WAIKIKI STA - MAR 6 1999."
CACHET MAKER: Enelani.
NUMBER MADE: 35
ITEM # 99MAR06-PC
PRICE: $4.00
---
Place an order for covers & postcards
return to introduction