---

CENTENARY OF PRINCESS KA'IULANI'S VISIT TO JERSEY, CHANNEL ISLANDS & HER RETURN TO HAWAI'I

---
For the summer of 1897, Princess Ka'iulani and her father Archibald Cleghorn stayed at a private mansion called "La Chaire" in Rozel on the northeast coast of Jersey (one of the Channel Islands between England and France).
On September 15th 1997, the Jersey Post Office issued a special cancel to celebrate the Centenary of the visit of Princess Ka'iulani to Jersey.
Princess Ka'iulani left Europe mid-September 1897 and returned to her native Hawai'i. On her way home she stopped in Washington DC where she briefly met with her aunt Queen Lili'uokalani who was still lobbying for the return of her throne. The heiress apparent to the Kingdom of Hawai'i finally arrived in Honolulu Harbor on November 9th 1897 to a tumultuous welcome. For many days, a crowd of well-wishers came to visit her at "Ainahau" her Waikiki estate on the island of O'ahu.
The cover and postcard also bear a U.S. pink rose stamp with a Honolulu cancel dated November 9 1997.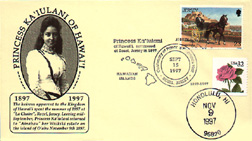 ENVELOPE: Cream colored. Size 6.5" x 3.5" (165mm x 92mm)
CACHET: Black and White picture of Princess Ka'iulani (from an original photo).
CACHET TEXT: "The heiress apparent to the Kingdom of Hawai'i spent the summer of 1897 at "La Chaire", Rozel Jersey. Leaving mid-September. Princess Ka'iulani returned to "Ainahau" her Waikiki estate on the island of O'ahu November 9th 1897."
STAMP: Jersey 23p stamp showing Horse and buggy from the 1890's with Mount Orgeuil in the background. (Scott # 768). One can imagine Princess Ka'iulani and her father driving around Jersey in the summer of 1897 in such a vehicle. Plus 32c USA pink rose stamp (Scott # 2492).
2 CANCELLATIONS: Special Jersey Post Office circular date stamp cancel "CENTENARY OF PRINCESS KA'IULANI'S VISIT - ROZEL, JERSEY - SEPT 15 1997." Map of Hawaii & Jersey plus text "Princess Ka'iulani of Hawai'i summered at Rozel Jersey 1897" are also part of the cancellation. Plus USA circular date stamp cancel "HONOLULU, HI 96820, NOV 9 1997"
CACHET MAKER: Enelani.
NUMBER MADE: 100
ITEM # 97SEP15-E2
PRICE: $4.50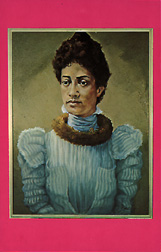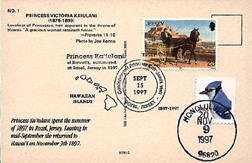 POSTCARD: Size 5.5" x 3.5" (140mm x 90mm)
CACHET: None, just text only.
CACHET TEXT: "Princess Ka'iulani spent the summer of 1897 at Rozel Jersey. Leaving mid-September she returned to Hawai'i on November 9th 1897"
STAMP: Jersey 23p stamp showing Horse and buggy from the 1890's with Mount Orgeuil in the background. (Scott # 768). One can imagine Princess Ka'iulani and her father driving around Jersey in the summer of 1897 in such a vehicle. Plus 20c USA Bluejay stamp (Scott # 3048).
2 CANCELLATIONS: Special Jersey Post Office circular date stamp cancel "CENTENARY OF PRINCESS KA'IULANI'S VISIT - ROZEL, JERSEY - SEPT 15 1997." Map of Hawaii & Jersey plus text "Princess Ka'iulani of Hawai'i summered at Rozel Jersey 1897" are also part of the cancellation. Plus USA circular date stamp cancel "HONOLULU, HI 96820, NOV 9 1997"
CACHET MAKER: Enelani.
NUMBER MADE: 50
ITEM # 97SEP15 -PC2
PRICE: $4.50