---

ROYAL HAWAIIAN HOTEL, WAIKIKI
70TH ANNIVERSARY OF THE FIRST OPENING &
50TH ANNIVERSARY OF RE-OPENING AFTER WWII

---
On February 1st 1927, the Royal Hawaiian Hotel, Waikiki opened its doors for the first time. During World War II it was used to house troops being readied for shipment to the South Pacific Front. The beach in front of the Hotel was covered in barbed wire barricades to make it difficult for the enemy to land there (see photo below).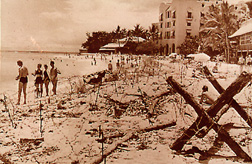 After the war had ended, the Hotel was completely refurbished and reopened on February 1st 1947. This color postcard is the official postcard that is given to all current guests of the Hotel. The cancellation date has a dual purpose. The 70th Anniversary of the first opening and the 50th Anniversary of the re-opening after World War II.

There was also a cacheted cover made on official Royal Hawaiian Hotel stationery, but only 12 such covers were produced and they have sold out.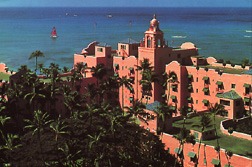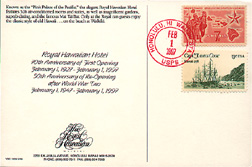 POSTCARD: Continental Size 6" x 4" (152mm x 100mm)
CACHET: None, text only on message side.
CACHET TEXT: "Royal Hawaiian Hotel, 70th Anniversary of First Opening, February 1, 1927-February 1, 1997, 50th Anniversary of Re-Opening after World War Two, February 1, 1947-February 1, 1997"
STAMP: 7c Hawaii Statehood stamp (Scott # C55) & 13c Captain Cook stamp (Scott # 1733).
CANCELLATION: Circular date stamp cancel "HONOLULU HI WAIKIKI STA - FEB 1 1997."
CACHET MAKER: Enelani.
NUMBER MADE: 23.
ITEM # 97FEB01
PRICE: SORRY, SOLD OUT.
---