---

TROPICAL FLOWERS - First Day Cover
Foster Botanical Garden, Honolulu, Hawai'i

---
On May 1st 1999 in Honolulu, Hawai'i, the U.S. Post Office issued four new 33c stamps depicting tropical flowers in a block of four. A cacheted envelope was made by the Hawaiian Philatelic Society in co-operation with the Foster Botanical Garden in Honolulu.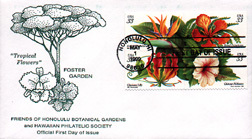 The First Day Cover also includes a card insert printed in green ink which reads:
"The 'Tropical Flowers' block of four stamps salute the beauty, bounty and complexity of the American landscape. Bird of Paradise, Royal Poinciana, Gloriosa Lily and Chinese Hibiscus are grown in Hawai'i, southern California and Florida. They are illustrated by artist Steven Buchanan of Winsted, Connecticut and designed by Carl Herrman of Laguna Niguel, California.
Foster Botanical Garden originated in 1853 when the Hawaiian Queen, Kalama, leased land to William Hillebrand, a German physician and botanist who built his home and planted trees that now grace the area. After twenty years of collecting he returned to Germany and published Flora of the Hawaiian Islands (1886). Captain Thomas and Mary Foster added to the gardens, and in 1930 Mary Foster bequeathed the site to the City of Honolulu as a public park. Dr. Harold Lyon, first director, introduced thousands of new species and began the famous orchid collection. Paul Weissich, director from 1957 to 1989, expanded Foster and developed four more sites on O'ahu Island, creating the Honolulu Botanical Gardens system, the largest and most diverse tropical plant collection in the United States. Foster Garden is on the National Register of Historic Places.
The Friends of Honolulu Botanical Gardens was founded in 1960 as a non-profit educational organization to broaden the knowledge and enjoyment of plants and conservation among the people of Hawai'i and visitors from around the world. The Friends sponsor many volunteer activities to support the gardens, raising funds for plant collection and importation, horticultural research, preserving native species, computerization of the scientific collections, plant identification signs, special training for the gardens' staff, and informative programs for the interested public."
ENVELOPE: White. Size 6.5" x 3.5" (165mm x 92mm)
CACHET: Drawing of tree and flowers, printed in green ink.
CACHET TEXT: "Tropical Flowers", "Foster Garden", "Friends of Honolulu Botanical Gardens and Hawaiian Philatelic Society. Official First Day of issue".
STAMP: Four 33c Tropical flowers stamps (Scott # new).
CANCELLATION: Circular date stamp cancel "HONOLULU HI 96820 - MAY 1 1999." plus 4 killer bars with "FIRST DAY OF ISSUE" in between.
CACHET MAKER: Hawaiian Philatelic Society and Foster Botanical Garden.
NUMBER MADE: Unknown.
ITEM # 01MAY99
PRICE: $4.00