---

UNITED AIRLINES
50TH ANNIVERSARY OF THE FIRST
SCHEDULED PASSENGER FLIGHT TO HAWAI'I

---
On May 1st 1947, a United Airlines DC6 aircraft made the first scheduled passenger flight from San Francisco via Los Angeles to Honolulu. A large crowd was on hand to greet the plane whose nose was then draped with a huge flower lei (as shown in the cachet's photo). This flight saw the rebirth of Hawaii tourism after World War II.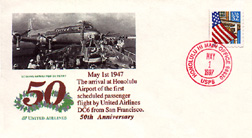 ENVELOPE: White. Size 6.5" x 3.5" (165mm x 92mm)
CACHET: Black and White photo of the United Airlines DC6. Plus a large "50" draped with a lei.
CACHET TEXT: "May 1st 1947. The arrival at Honolulu Airport of the first scheduled passenger flight by United Airlines DC6 from San Francisco. 50th Anniversary."
STAMP: 32c flag over porch (Scott # 2897)
CANCELLATION: Circular date stamp cancel "HONOLULU, HI MAIN OFFICE 96820, MAY 1 1997"
CACHET MAKER: Enelani.
NUMBER MADE: 30.
ITEM # 97MAY01
PRICE: $4.00 (Almost Sold Out).
---
Place an order for covers & postcards
return to introduction