---

USS MISSOURI ARRIVAL AT PEARL HARBOR, HAWAI'I
- HER FINAL BERTHING PLACE

---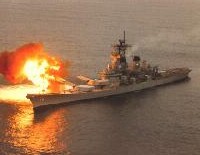 USS MISSOURI firing her big guns

The USS Missouri was launched from the New York Navy Yard in Brooklyn, New York on January 29th 1944. It was on her decks in Tokyo Bay on September 2nd 1945 that Japan signed the official act of surrender ending World War II. The "Mighty Mo" (as it is affectionately known) took part in three wars (WW II, Korea & Persian Gulf).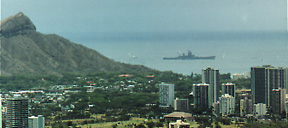 USS MISSOURI passing Diamond Head June 21 1998
(enelani photo © 1998, taken from Tantalus)

On June 21st 1998, the USS Missouri arrived off Diamond Head, O'ahu near the end of her final voyage. The next day, on June 22nd, she entered Pearl Harbor and tied up next to Ford Island (near the USS Arizona Memorial)- her final berthing place. The "Battleship Missouri Memorial" opened to the public on January 29th 1999.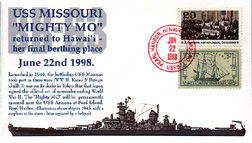 ENVELOPE: White. Size 6.5" x 3.5" (165mm x 92mm).
CACHET: A port side view of the USS Missouri.
CACHET TEXT: "BB-63 in large light grey letters under text - USS MISSOURI "MIGHTY MO" returned to Hawai'i her final berthing place, June 22nd 1998. Launched in 1944, the battleship USS Missouri took part in three wars (WW II, Korea & Persian Gulf). It was on its decks in Tokyo Bay that Japan signed the official act of surrender ending World War II. The "Mighty MO" will be permanently moored near the USS Arizona at Ford Island, Pearl Harbor. (Illustration shows ship in 1945, with a seaplane at the stern - later replaced by a helipad)."
STAMP: 3c US Frigate Constitution stamp (Scott # 951) & 29c various WWII stamps (Scott # 2559 a-j, 2697 a-j, 2765 a-j, 2838 a-j). Note that the3c stamp depicts the US Navy's oldest commissioned warship in 1797.
CANCELLATION: Circular date stamp cancel "PEARL HARBOR HI NAVSTA MOU NO. 1- JUN 22 1998."
CACHET MAKER: Enelani.
NUMBER MADE: 50.
ITEM # 98JUN22
PRICE: $3.50

Photographer's note: Listening to the local radio about the estimated time of arrival of the USS Missouri on Sunday June 21st 1998, I drove up Tantalus to get a good shot of the battleship passing Diamond Head with my Nikon camera and telephoto lens. I was not very hopeful as it was raining and the sky was very misty at the time. There were only 3 cars parked at the Tantalus lookout high up the mountain. Just myself and a tourist with a pocket camera were taking pictures. It was so misty that I could barely make out the Missouri on the other side of Diamond Head. It was still misty when the Missouri passed out of view behind Diamond Head. My hopes were fading for a good photo. It seemed like an eternity that the Missouri was hidden from view. Then suddenly there was the bow of the ship barely showing past Diamond Head on the other side on its way to Pearl Harbor. I readied my camera sitting in my car resting the telephoto lens on the partially lowered car window. But it was still misty and I wasn't going to get a good photo. I was also wary of sticking the camera out of the car window as the lens might get wet and ruin the shots. The Missouri was still edging past Diamond Head bit by bit. Then she came into full view and, as if by magic, the rain stopped, the sky cleared considerably, the sun came out a bit and I could take my photos. I was elated and used up a whole roll of film. Afterwards, I raced down Tantalus and rushed the film to the photo lab. I was thrilled to bits when I picked up the photos later and found they came out so well.
---
Place an order for covers & postcards
return to introduction