---

PRINCE WILLIAM LUNALILO BECOMES
KING LUNALILO OF HAWAI'I

---
On December 11th 1872, King Kamehameha V of the Kingdom of Hawai'i died. He had no children and did not name an heir. So, the leguslature met on January 8th 1873 and unanimously elected Prince William Lunalilo, the highest ranking chief, as the next King of Hawai'i.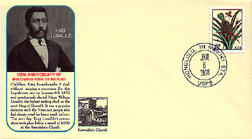 ENVELOPE: Cream colored. Size 6.5" x 3.5" (165mm x 92mm).
CACHET: Black and White picture of King Lunalilo (from an original photo). Plus a small line drawing of Kawaiaha'o Church (bottom right).
CACHET TEXT: "125TH ANNIVERSARY OF BECOMING KING OF HAWAI'I (in red). Childless, King Kamehameha V died without naming a successor. So, the leguslature met on January 8th 1873 and unanimously elected Prince William Lunalilo, the highest ranking chief, as the next King of Hawai'i. It was a popular decision with the Hawai'i people who had already voted for him a week before. The next day, King Lunalilo's coronation took place before a crowd of 3,000 at the Kawaiaha'o Church."
STAMP: 32c Pineapple (Merian Botanical Print, Scott # 3127)
CANCELLATION: Circular date stamp cancel "HONOLULU HI WAIKIKI STA - JAN 8 1998."
CACHET MAKER: Enelani.
NUMBER MADE: 50.
ITEM # 98JAN08
PRICE: $3.50
---
Go to King Lunalilo's Coronation
Go to King Lunalilo's death
Place an order for covers & postcards
return to introduction