---

125TH ANNIVERSARY OF THE DEATH OF
KING LUNALILO OF HAWAI'I

---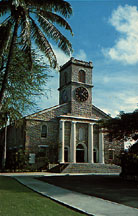 Kawaiaha'o Church, Honolulu

King Lunalilo of the Kingdom of Hawai'i reigned from January 8th 1873 until his death on February 3rd 1874. A little over a year. He was unmarried, had no children and did not name an heir. King Lunalilo is buried in his own tomb near the Kawaiaha'o Church, Honolulu. He was followed by King Kalakaua.

On February 3rd 1999, a special cacheted cover was created to celebrate the 125th anniversary of his death. The cover shows a blow-up of a 50c Hawai'i postage stamp from 1883 bearing the portrait of King Lunalilo.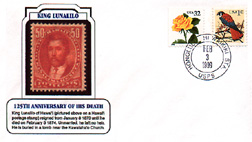 ENVELOPE: White. Size 6.5" x 3.5" (165mm x 92mm).
CACHET: Blow-up of King Lunalilo on a 50c Hawai'i postage stamp in a frame, with text in box underneath.
CACHET TEXT: "KING LUNALILO (At top of stamp), 125TH ANNIVERSARY OF HIS DEATH. King Lunalilo (pictured above on a Hawai'i postage stamp) reigned from January 8 1873 until he died on February 3 1874. Unmarried, he left no heir. He is buried in a tomb near the Kawaiaha'o Church."
STAMP: 32c Yellow Rose stamp (Scott # 3049)) + 1c bird stamp (Scott # 2477)
CANCELLATION: Circular date stamp cancel "HONOLULU HI WAIKIKI STA - FEB 3 1999."
CACHET MAKER: Enelani.
NUMBER MADE: 50.
ITEM # 99FEB03
PRICE: $3.00
---